Submitting Acoustic Features¶
The stated goal of the AcousticBrainz project is to provide music technology researchers and open source hackers with a massive database of information about music, in the hopes that this database will spur the development of new music technology research and allow music hackers to create new and interesting recommendation engines.
This acoustic information describes the acoustic characteristics of music and includes low-level spectral information and information for genres, moods, keys, scales and much more. You can support this initiative by extracting the information from your music files and submitting it to the AcousticBrainz database.
Note
All information extraction from a music file is performed on your system and only this information is sent to AcousticBrainz. Your actual music files are not transmitted.
To extract the information from an audio file and submit it to AcousticBrainz, you must first match your audio files to release and track information from the MusicBrainz database and save the files. See the Retrieving Album information and Matching Files to Tracks sections for more information about retrieving release information and matching audio files to releases.
Once the files have been matched and saved, simply select the tracks or releases that you wish to submit and use the "Submit AcousticBrainz features" command from the "Tools" section of Picard's main menu bar. If the files are properly tagged with MusicBrainz identifiers and a valid extraction application has been configured in the AcousticBrainz option settings, then the files will be added to a queue where they will be processed in the background.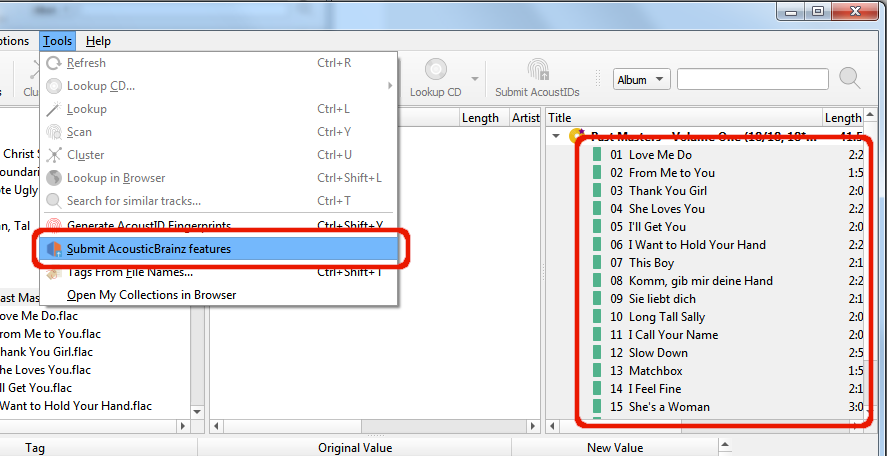 If there is no valid extraction application identified, or if the "AcousticBrainz features extraction" option has not been enabled in the AcousticBrainz option settings, then the "Submit AcousticBrainz features" command will be unavailable.